Stop Losing Your Keys!
January 29, 2013
A lot of people want to get organized this year. I recently got to thinking about what, exactly, I can reasonably expect to clean up this year with a two-year-old chaos machine running around (today, she emptied the entire contents of our silverware drawer onto the kitchen floor. SO HELPFUL, these toddlers!). I decided that the best I can do is to cull my key ring and stop losing them constantly. So, I trashed all the superfluous keys on there, painted the tops of my main work and house keys with nail polish, so I can pick them out easily, and committed to hanging them on their little wall-hook right when I walk in the door, no excuses. This has changed my life. No more frantic searches through coat pockets and between couch cushions, just a simple pluck from the hook on my way out the door. Baby steps.
Lucky for you, there are some really awesome key hooks out there, so that you can get a tiny bit organized, like me! Trust me, this investment will change your life!
I have this in my virtual shopping cart. It may be time to hit the purchase button.
Home Tweet Home Key Holder, $25
This giant magnet does not require David to have an adorable birdie on his keychain, so that kind of stinks.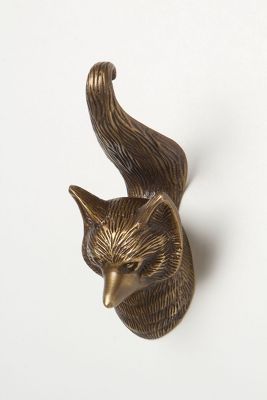 Foxes are the new owls, or so I've been told. And this is one classy fella.
I like the idea of dropping your phone, wallet and keys in the same space, which would make it even easier to get out the door later on.
This is a sleek and modern option, with or without your keys hanging from it.

This tandem bike is sweet.