Playground-Inspired Decor
June 22, 2015
I have long desired a swing in my home for my daughter (and for everyone, because who doesn't like to swing?). And now that IKEA sells an indoor swing, I think my dream will become a reality very soon! Playground inspired decor has been popping up all over the place for a while now, from slides to lower floors to climbing walls in kids' rooms. Check out these fun applications:
My elementary school playground had metal slides that basically incinerated our backsides on hot, sunny days. No such problem with this stainless steel beauty from Apartment Therapy.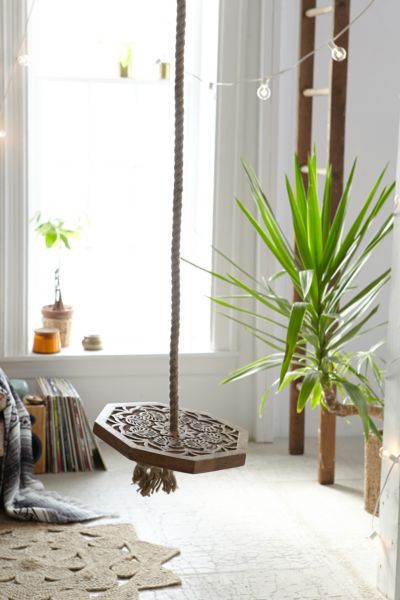 This indoor swing from Urban Outfitters is so pretty. At $98, the price is a little steep, but if you want fun and style, it's worth it.
Installing climbing wall is as easy as screwing the hand and footholds into the wall, and then you can literally say your kids are climbing the walls. This one is from Aligned Real Estate
These are tree trunks that have been scraped, polished and installed as climbing structures for the kids. They are beautiful and super fun. From Remodelista
This picture just cracks me up. Look how high that kid is!! A bar is lots of fun for kids to flip and hang upside down on. I found this on on Remodelista.